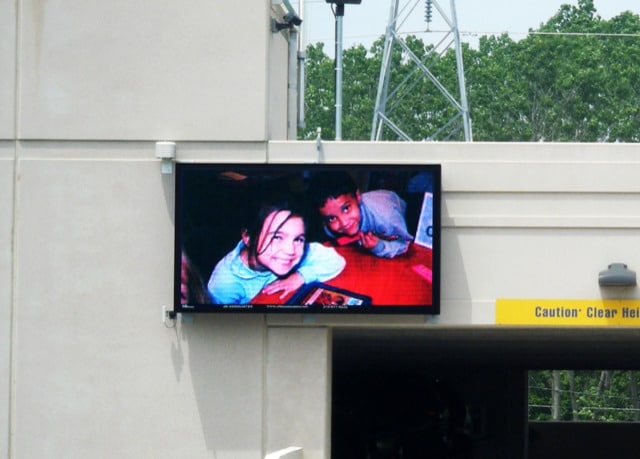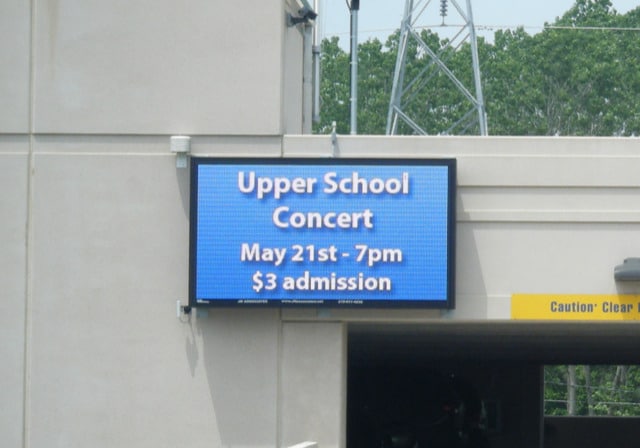 SCHOOLS
With today's technology, old-fashioned marquee signs with changeable plastic letters are out of date and no longer practical. LED school signs are much more informative and easier to update.
The old plastic letter signboards are limited, subject to student vandalism, and often left forgotten with old messages for months at a time. This no longer has to be the case. An outdoor LED school sign solves all of these problems and adds a number of other useful features as well. LED message signs from AD SYSTEMS can display videos, school logos, photos, and animated text.
An LED electric sign can be used to announce varsity games, pep rallies, academic competitions, snow days, important school reminders, and more. And they're not just for students – an outdoor LED school sign can serve to inform outsiders about seminars, alumni events, and more without having to allow them onto the premises during school hour.
Community communications
An Outdoor LED display is a great way to create excitement and communicate upcoming events with parents and the community. Advertise ticket sales to increase community involvement in school events. Welcome "special" guests.
An LED School Sign enables you to communicate more effectively with your students, parents, staff, and community. Improve your school's ability to display announcements in real-time and to reach out to the community.
Student communications
Use Indoor LED displays in the front lobby, hallways, and lunchroom to communicate with students and faculty. Unlike intercom announcements, LED signs are silent and non-disruptive. Remind students about safety and security programs. Recognize students, staff, and faculty. Add LED message displays to existing scoreboards to create spectacular displays.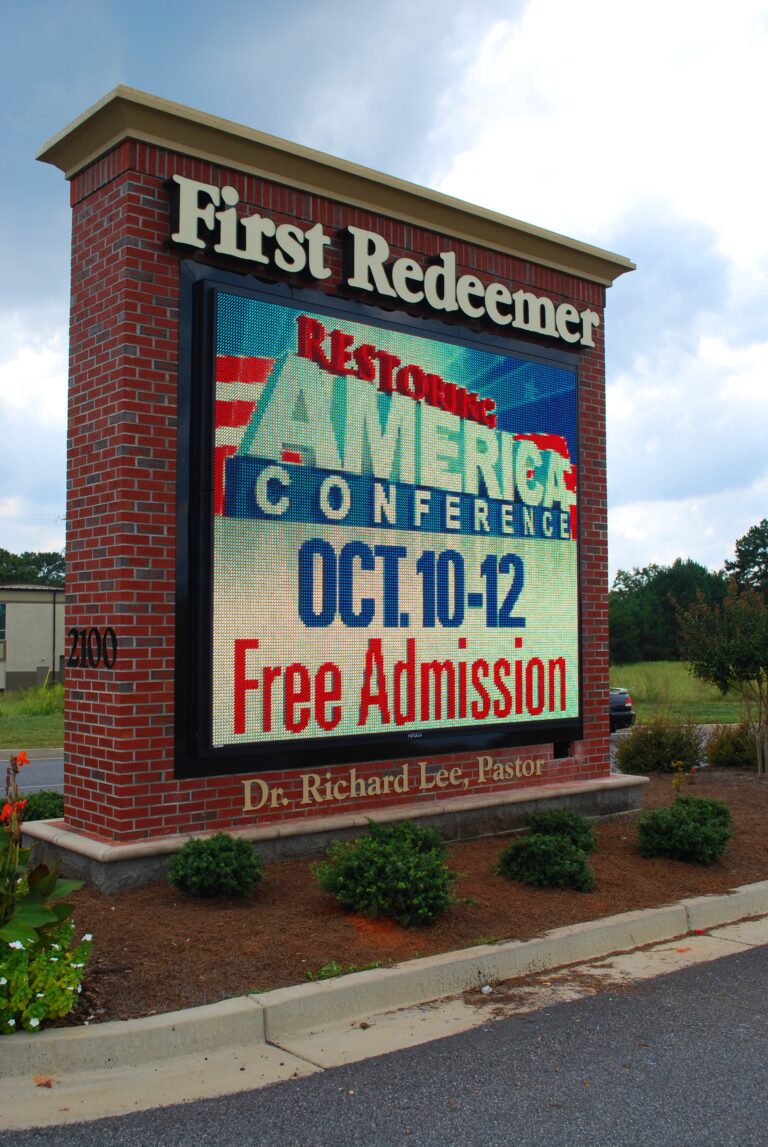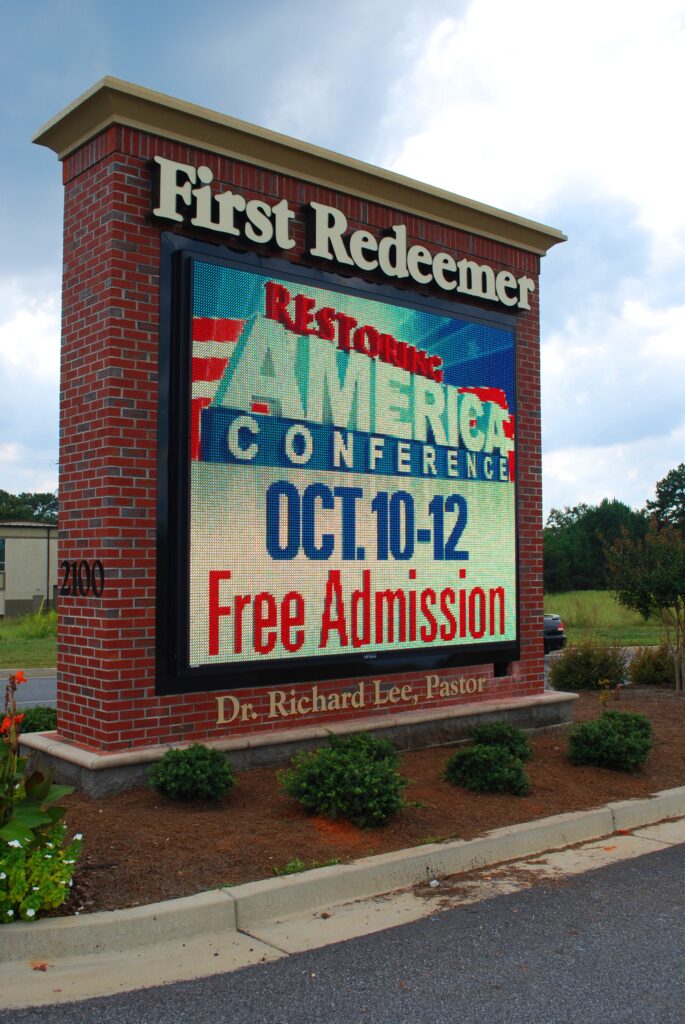 CHURCHES
LED Church Signs are a Modern Day Ministry Tool
You see LED church signs everywhere. Colorful, animated digital church signs are quickly becoming a staple marketing tool for church outreach and ministry. The popularity of LED church signs is unprecedented. Drivers can't help but notice church LED signs with a multitude of messages that can be displayed.
Churches are not just places where people go to worship – they're also gathering places where people go to find inspiration and friendship. As such, outdoor LED church signs can serve as helpful church marketing tools for entire communities.
*Reach more potential visitors with outdoor LED signs for churches
*Augment your ministry's scope with digital church signs
*Incorporate funny or inspirational messages with LED church signage
*Program church events and holiday messages in advance
*Broadcast pre-scheduled daily affirmations and bible verses or spiritual statements to the community.
*Advertise festival activities and fund-raising events.
*Recognize students, staff, and faculty.
*Welcome important guests.
*Invite NEW members – Reach out to new members by informing them of upcoming scheduled events, dates, times, phone numbers and websites.
*Proudly identify and display your denominational affiliation.
With AD SYSTEMS LED Church Signs, A Picture Is Worth 1,000 Words
Have a sunrise service coming up? Instead of simply sliding static letters into a track, why not display an animated picture of the sun coming up with the date and time superimposed on top? The audience passing by can easily tell what message you are conveying. Have a patriotic message you want to display? A waving, full-color flag in the background makes a much more eye-catching statement. Are congratulations to a church member in order? Anyone would enjoy seeing their picture displayed next to the words of praise. Programmable LED church signs can be used to display all sorts of useful information such as service times, inspirational passages and scripture quotes.
The ability to quickly and easily change the message on a colorful LED display allows your church to tailor its communication efforts to meet any current event. A fully programmable, digital outdoor LED church sign enables you to get your message out quickly and communicate more effectively with your congregation and the community at large. The possibilities are endless!